About Itoigawa
Itoigawa is a city of about 42,000 people on the westernmost edge of Niigata Prefecture. To the south and west of the city rise the Kubiki Mountains and the massive Japanese Alps, while to the north of the city spreads the Sea of Japan as far as the eye can see, creating a region of dynamic landscapes and natural wonders.
Itoigawa has been inhabited since Japan's prehistoric Jomon period. During this time, the people of Itoigawa collected jade stones along the area's coast and rivers which they fashioned into beautiful beads, marking the beginning of the world's oldest jade culture. To this day, Itoigawa is known as one of the world's oldest jade-producing regions and thousands of visitors come each year to see the stunningly beautiful Kotakigawa Jade Gorge, Japan's largest jade deposit.
Itoigawa's extreme topography, ranging in elevation from zero to nearly 3,000 meters above sea level, is also the secret to its rich food scene. The city boasts one of the largest fisheries in Niigata Prefecture, with thousands of tons of fish, crab, shrimp and other delicacies brought to local markets and restaurants each year. Heavily forested mountains provide the ideal environment for a variety of mushrooms and wild edible plants, while verdant river valleys are dotted with small-scale family-operated farms producing exceptional rice and fresh seasonal vegetables.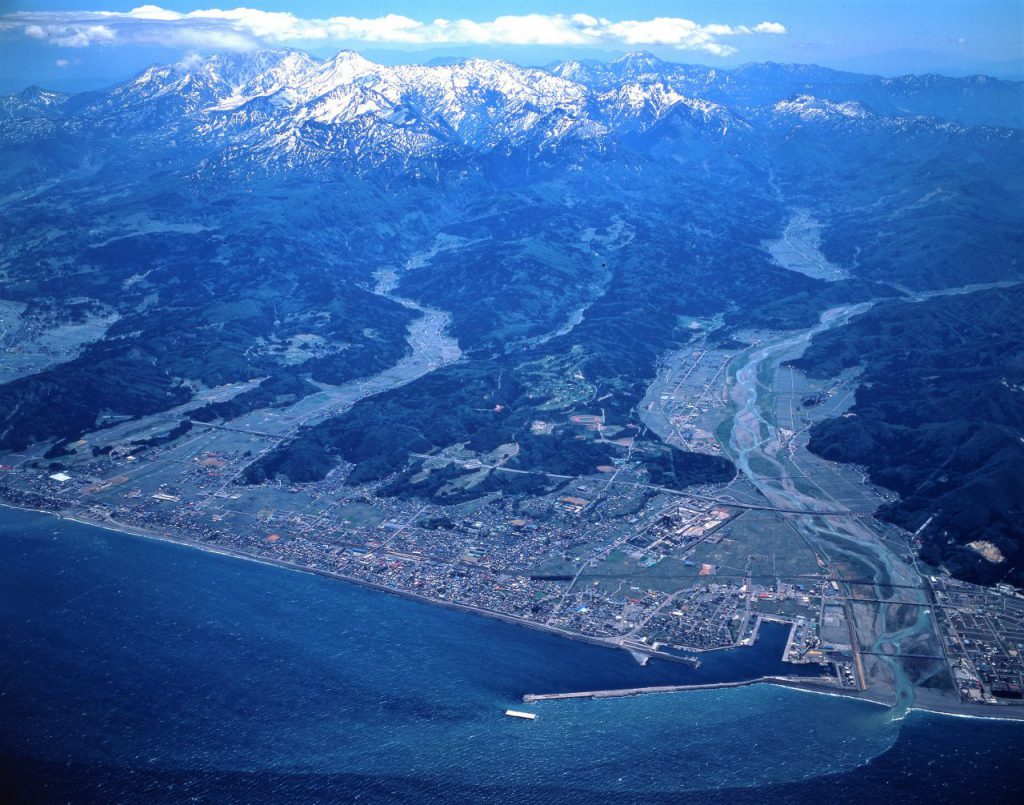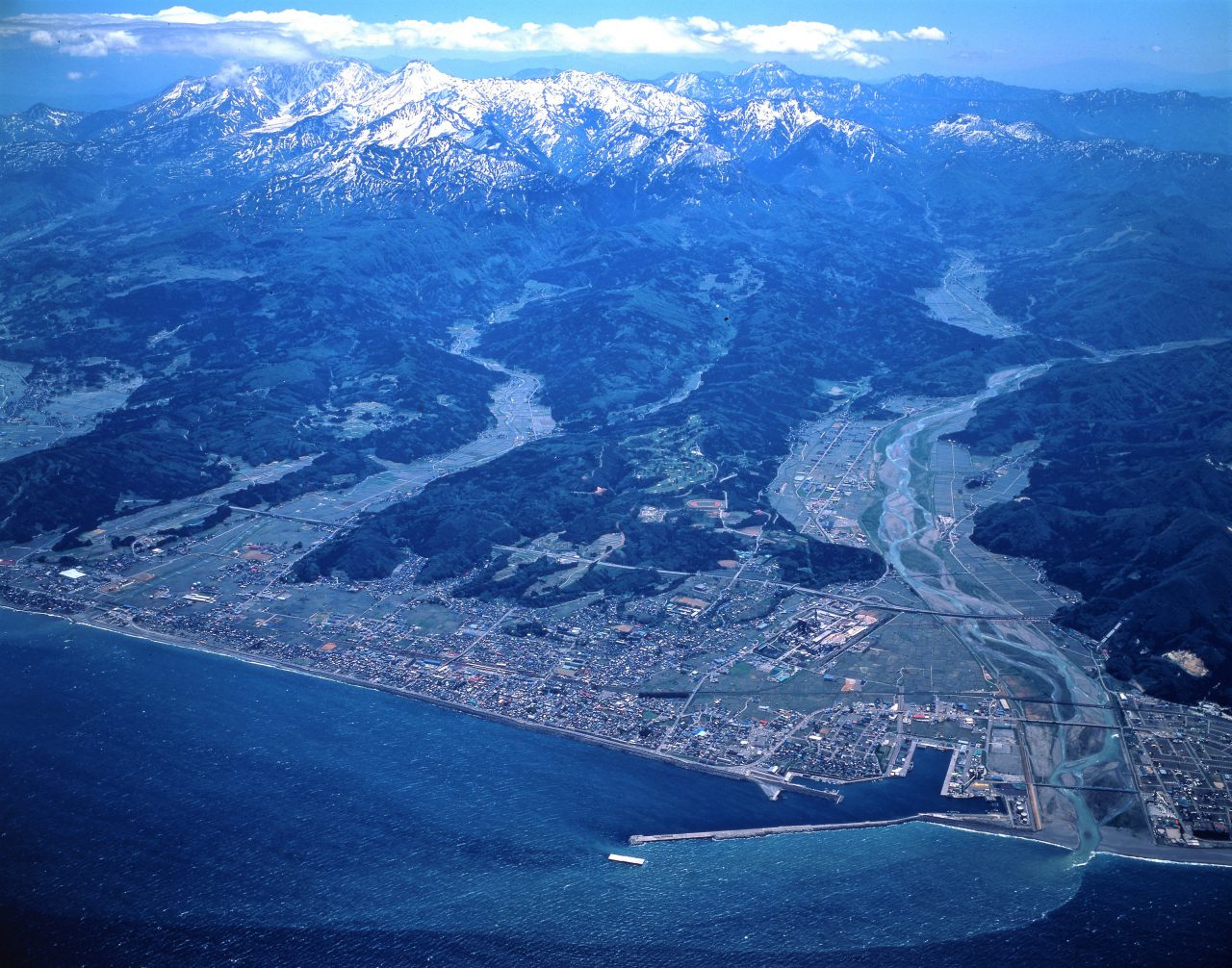 Geography and Climate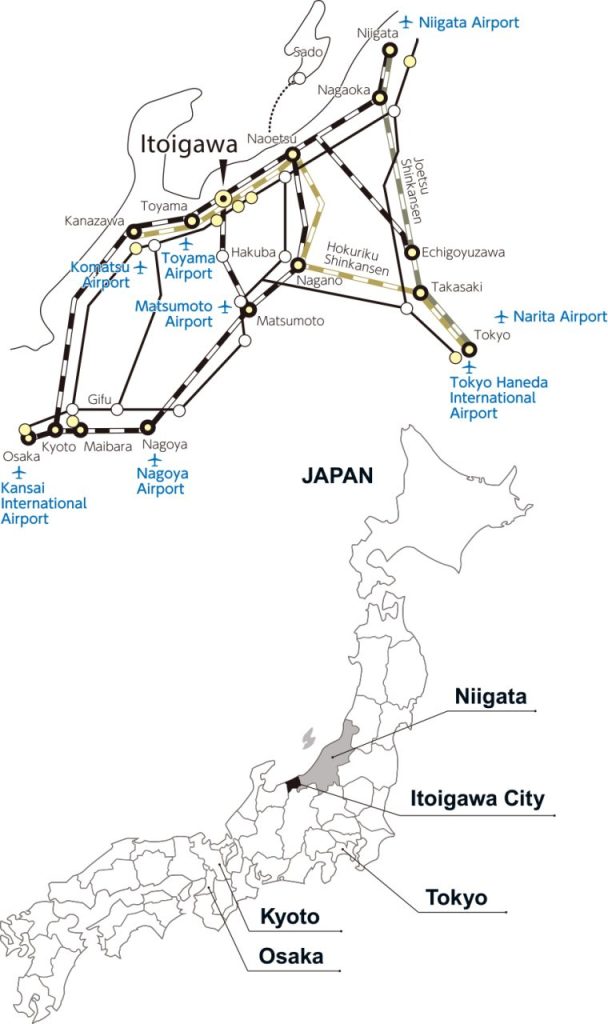 Itoigawa is located near the very center of Japan, along the coast of the Sea of Japan. With the opening of the Hokuriku Shinkansen in 2015, it is easier to visit Itoigawa than ever before, only taking between 2 to 2.5 hours to travel from Tokyo and less than 4 hours to travel from Osaka & Kyoto. Itoigawa is also conveniently located to the ski resorts of Hakuba and Myoko as well as a number of other popular tourist destinations such as Nagano, Toyama, and Kanazawa, all within an hour's reach of Itoigawa by train. Slightly further afield, visitors can also access the Tateyama Kurobe Alpine Route, Matsumoto Castle and Kamikochi Highlands, and the UNESCO World Heritage Site Villages of Gokayama and Shirakawa-go.
The climate in Itoigawa is warm and temperate, with summer temperatures averaging around 24°C in summer and 2°C in winter. Despite the relatively warm weather, each winter cold weather fronts traveling across the Sea of Japan bring heavy snowfall, blanketing most of the city in snow, especially the parts closer to the mountains where snow often piles up to the second story of houses! While snowfall is common along the coast as well, the Sea of Japan keeps the weather warm and windy so that fallen snow usually melts before piling up too high. The people of Itoigawa take full advantage of this snowy climate by enjoying snow trekking, snowmobiling, and a variety of winter sports at either the Itoigawa Seaside Valley Ski Area or the Charmant Hiuchi Snow Resort.
In addition to snowy winters and warm summers, Itoigawa also experiences distinct spring and autumn seasons. The spring season features a variety of flowers, both cultivated and wild, beginning with peach blossoms and swamp lanterns in March; dazzling displays of decorative and wild cherry blossoms in April; and bamboo lilies, wisteria and azaleas in May. In autumn, the mountains become a dazzling display of yellows, reds, golds and browns as leaves change colors in preparation for summer. The cooler weather and brilliant foliage make autumn a popular time to enjoy mountain climbing, hiking trails and other outdoor activities.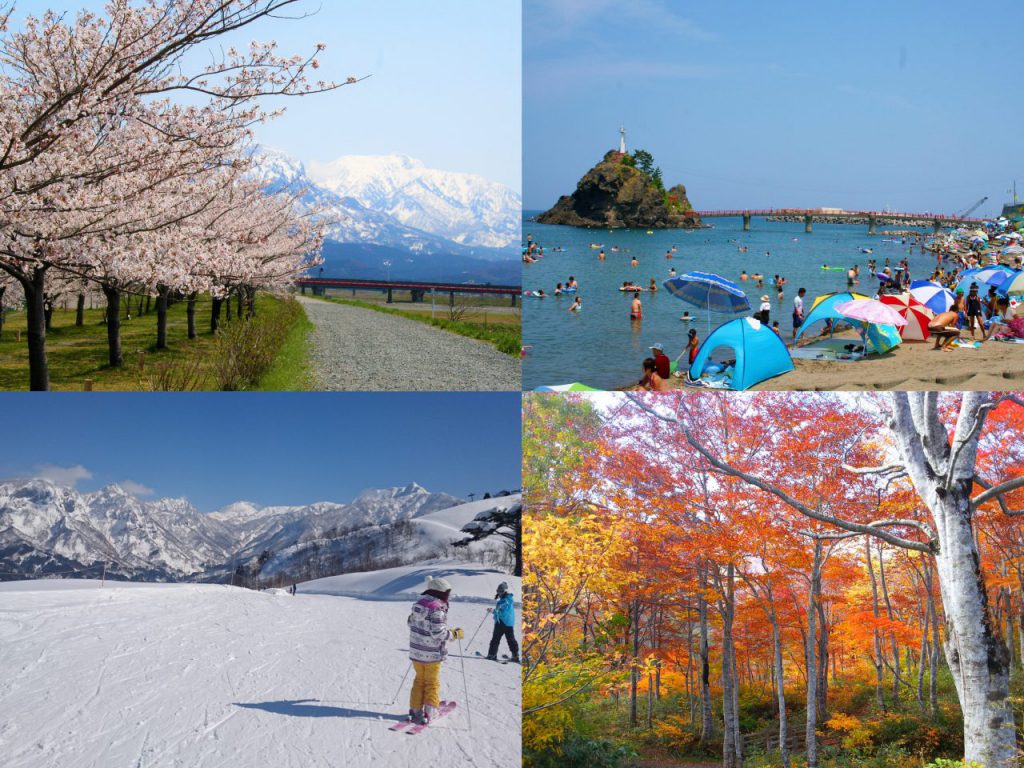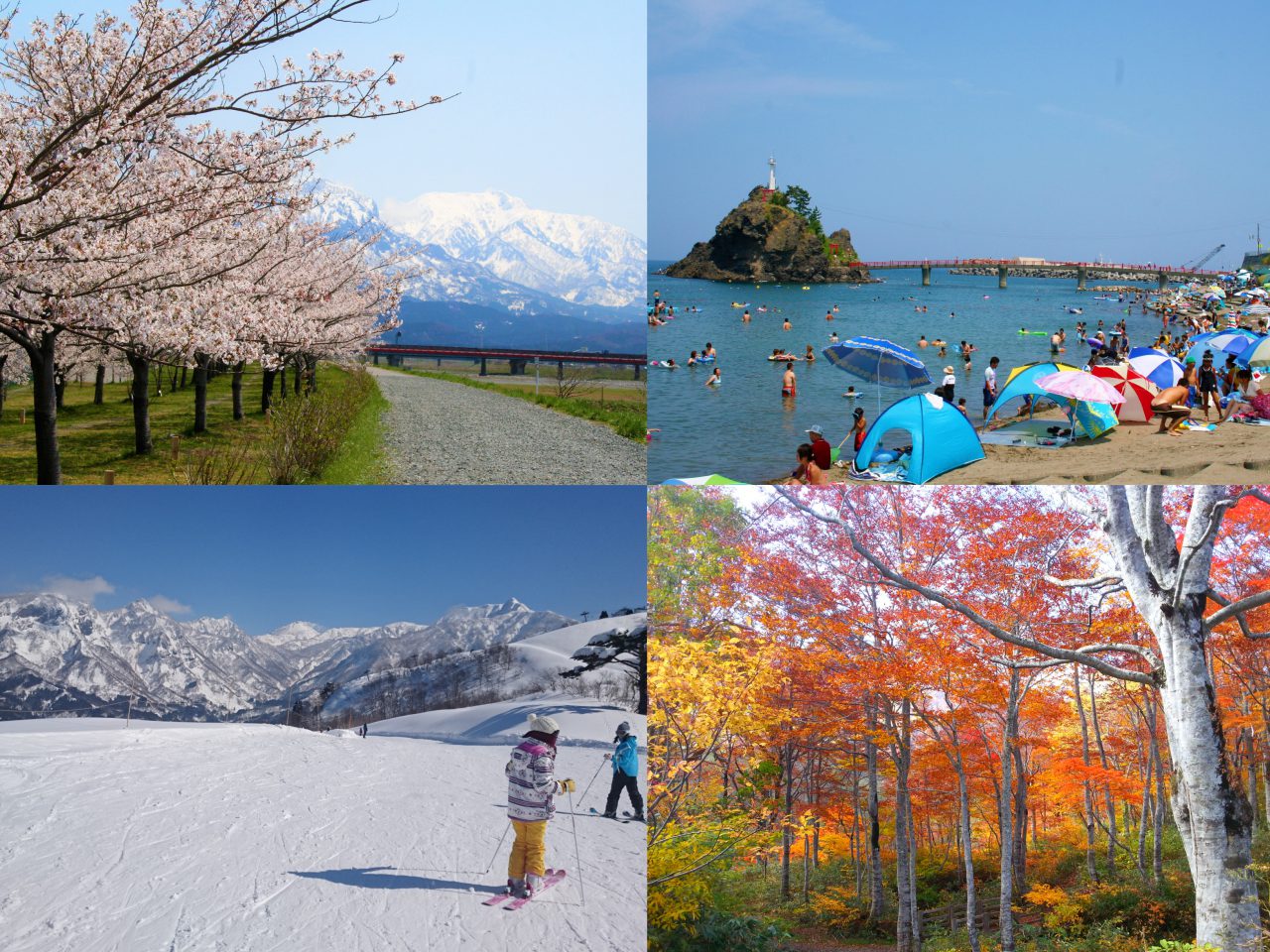 Itoigawa UNESCO Global Geopark
In 2009, Itoigawa was recognized as Japan's first Global Geopark. UNESCO Global Geoparks are areas recognized by UNESCO as areas of international geological significance whose geological and cultural heritages are managed with a holistic approach of conservation, education and sustainable development.
Today, the Itoigawa UNESCO Global Geopark features 24 Geosites where visitors can experience the stories to be told by our planet's geology and how the land has shaped our lives and communities.
For more information about the Itoigawa UNESCO Global Geopark, visit us online at http://www.geo-itoigawa.com/eng/